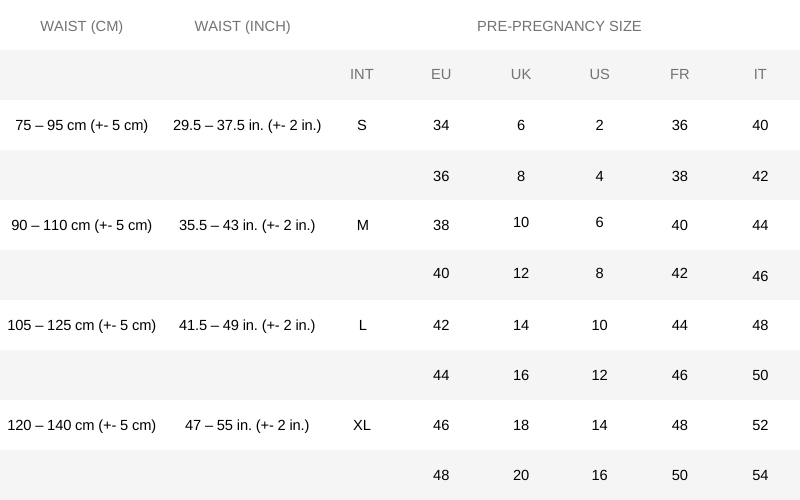 Lola&Lykke Core Relief Pregnancy Support Belt – meðgöngustuðningsbelti
Meðgöngu-stuðningsbelti.
LOLA&LYKKE® CORE RELIEF PREGNANCY SUPPORT BELT
Our pregnancy support belt is a must have for expecting mums. Made with stretchy and breathable materials designed to lift the weight of your growing belly, our ergonomic maternity support band eases pressure on your back, pelvis, and bladder. Dual support straps and a hot/hold pack that fits neatly in the back pocket give you extra support so that you can enjoy a pain-free pregnancy.
During pregnancy, we experience many uncomfortable symptoms, including lower back pain, pelvic
girdle pain and SI joint pain. A maternity support band can help ensure a pain-free pregnancy and support your overall wellness and recovery.
The gentle compression of our pregnancy girdle helps support the uterus and reduces discomfort from movement during physical activity. In addition, our pregnancy belly support belt provides external cues to your body to facilitate proper posture. During pregnancy, the extra weight carried in front of the body in combination with the stretching and weakening of key core muscles that support the spine may lead to a lack of core stability. Maternity support belt provides your core the support it needs, correcting your posture and reducing pains as a result.
Over 2/3 of expecting mothers experience back and pelvic pains during pregnancy, but there is no need to just put up with discomfort. Our pregnancy support belt helps reduce overall stress on the body during pregnancy and can help get you through your daily activities with less pain.
BENEFITS OF OUR PREGNANCY SUPPORT BELT
✔ ️High-level back, hip and abdominal support
✔ Super-soft bamboo viscose is comfortable on fragile stretching skin
✔ Extra compression straps with easy velcro fastenings to lift and support bump ✔ ️Features a back pocket for hot and cold therapy relief designed to ease back pain ✔ Eases pressure on back, pelvis, bladder and spine
✔ Reduces the risk of stretch marks
ADJUSTABLE DUAL-LAYER SUPPORT RECOMMENDED BY PHYSIOTHERAPISTS
The Lola&Lykke® pregnancy support belt has been developed in collaboration with Finnish maternity physiotherapists. The ergonomic design together with our unique dual-layer technology offers mums the best possible support during pregnancy. The Core Relief support band has two adjustable fastening panels, allowing for a comfortable, perfect fit around the abdominal area. Two adjustable compression straps with easy hook and loop fasteners help lift up the belly, support the back and reduce the feeling of pressure around the abdomen.
The support band is safe and comfortable to use during all your daily activities. It offers extra
support and stability during workout and physical activity. The band is simple to put on and it can be easily adjusted with the hook and loop fasteners. The high-level support helps stabilise the abdomen and reduces the risk of stretch marks.
BACK PAIN RELIEF WITH HEAT THERAPY AND REINFORCED BACK SUPPORT
Two vertical ribs at the back offer extra back support, which takes weight off your belly and relieve pains. A hot/cold therapy pack that fits neatly in the back pocket offers added comfort and reduces back pains. Depending on the desired heat effect, the gel pack can either be placed in the freezer or in the microwave.
BREATHABLE TECHNICAL MATERIAL WITH A SILKY-SOFT BAMBOO LINING
The unique material composition developed for our pregnancy support band offers high level support without compromising comfort. The ergonomic design of the band hugs the pregnant belly perfectly and the non-irritable bamboo-viscose lining feels comfortable against delicate skin. The support belt can be worn under or over clothing.
SIZE CHART
Fully adjustable fastening panels guarantee a suitable fit. Each band size offers 25cm of adjustability to grow with your belly.
MATERIAL COMPOSITION AND CARE INSTRUCTIONS
Material consistency:
Shell: 95% Bamboo 5% Spandex
Core: 40% Polyester 40% Nylon 20% Neoprene
Reinforced back support with two vertical ribs (PP)
Recommended method: air out the support band and wipe off surface stains with damp cloth. When needed: Gentle hand wash in cold water. Do not soak. Lay flat to dry.
HIGH QUALITY STANDARS – DESIGN FROM FINLAND
▪ Our technical material combines high elasticity with unique softness
▪ Our innovative Compression Technology® offers high level support
▪ Our bands are made by hand in accordance with high quality standards
▪ Silver-award winner at Made for Mums Awards 2020 as best health product for pregnancy
▪ Our support bands have been awarded the Design from Finland -mark as evidence of Finnish design excellence
SUSTAINABLE BRAND
Lola&Lykke® produces high-quality, long lasting products in 100% recyclable, plastic-free packaging. We offset our manufacturing and shipping carbon footprint and drive positive societal change by supporting great maternal health initiatives.
20.990 kr.